Profane Existene Records (USA)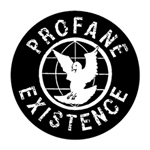 The Profane Existence Collective was formed in 1989 as a resource for the worldwide activist punk community. Over the years we have published a magazine, released numerous records, and have run a large distribution operation. We also make a continuous effort to involve ourselves in supporting the active punk community. While the collective was originally started in Minneapolis, MN we are now based in Huntington WV. However we still count on a vast network of volunteers around the world to continue the tradition of Profane Existence.
Currently Profane Existence is in the works of re-establishing zine contributors and once again doing a printed magazine. Until then we are regularly updating this web site with the same kinds of interviews, articles, columns, news and reviews that would previously find a home in our printed magazine. If you would like your music, video or printed releases to be reviewed here, please send it to either address.
---
---