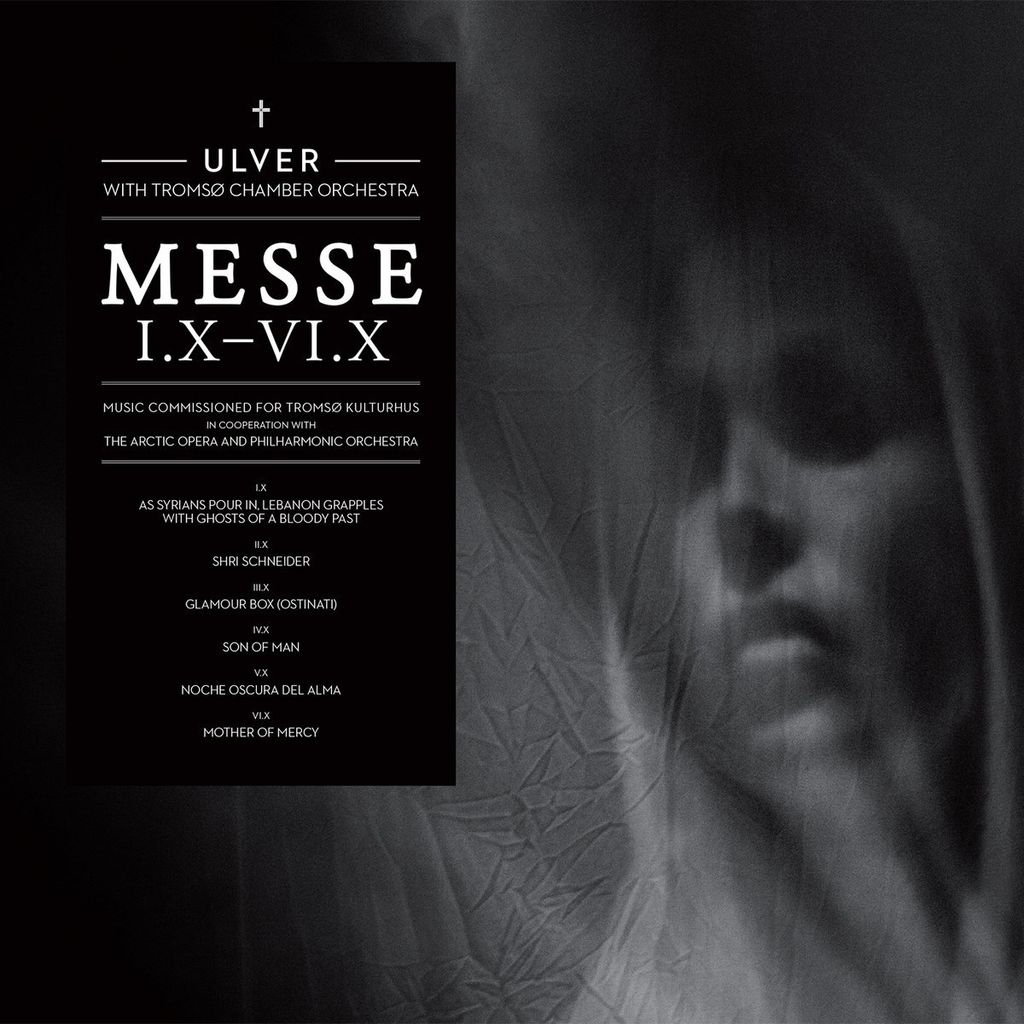 • ULVER WITH TROMSØ CHAMBER ORCHESTRA - Messe I.X - VI.X LP
NEUROPA RECORDS / JESTER RECORDS

2013 Europe Pressing ( NRP44 / TRICK051)
This is Ulver. I mean, really, what more can be said? Every Ulver fan — and I am talking about fans who appreciate all aspects of the band, not just the romanticized early years — will recognize the awe with which I write these words. Ulver has become an ineffable beast, a creature beyond taming and beyond words, whose works over the past decade have reached new heights of sound and form. Messe I.X.-VI.X is a collaboration with the Tromsø Chamber Orchestra, a performance recorded rather than altered in the studio. This is not merely a live recording, it is a moment in time achieving immortality through its engagement with sound and experimentation.
Such a work takes many listens to offer even a brief description, as contained within is the whole of the human experience. One moment, merely oddness, drifting away into other realms as the mind shuts down overwhelmed with everything that is happening. Then the spirit returns to form, and the fear, beauty and recognition returns with such a splendid awareness that the body raises up in anticipation for whatever may come. This is the accumulation of everything Ulver has done over the last few albums and more, changing the possibilities of sound while working within the context of an orchestra that seems to fill each individuals personal journey with every draw of the bow across the strings. It is more than just a new album, it is the album for a modern day world with the tragedies of the Middle East and America falling apart, taking the EU with it. Perhaps, if we can once again recognize the immortality of music, hundreds of years from now people will be listening to this as we listen to Chopin or Haydn today, as this music is both immortal yet a voice for the age of decay, perhaps as some would say the Kali Yuga, which we exist in today. It is a monumental piece that will not soon be forgotten, for its innocence and revelation is truly majestic.
Also available in ULVER - Kveldssanger LP here.
---