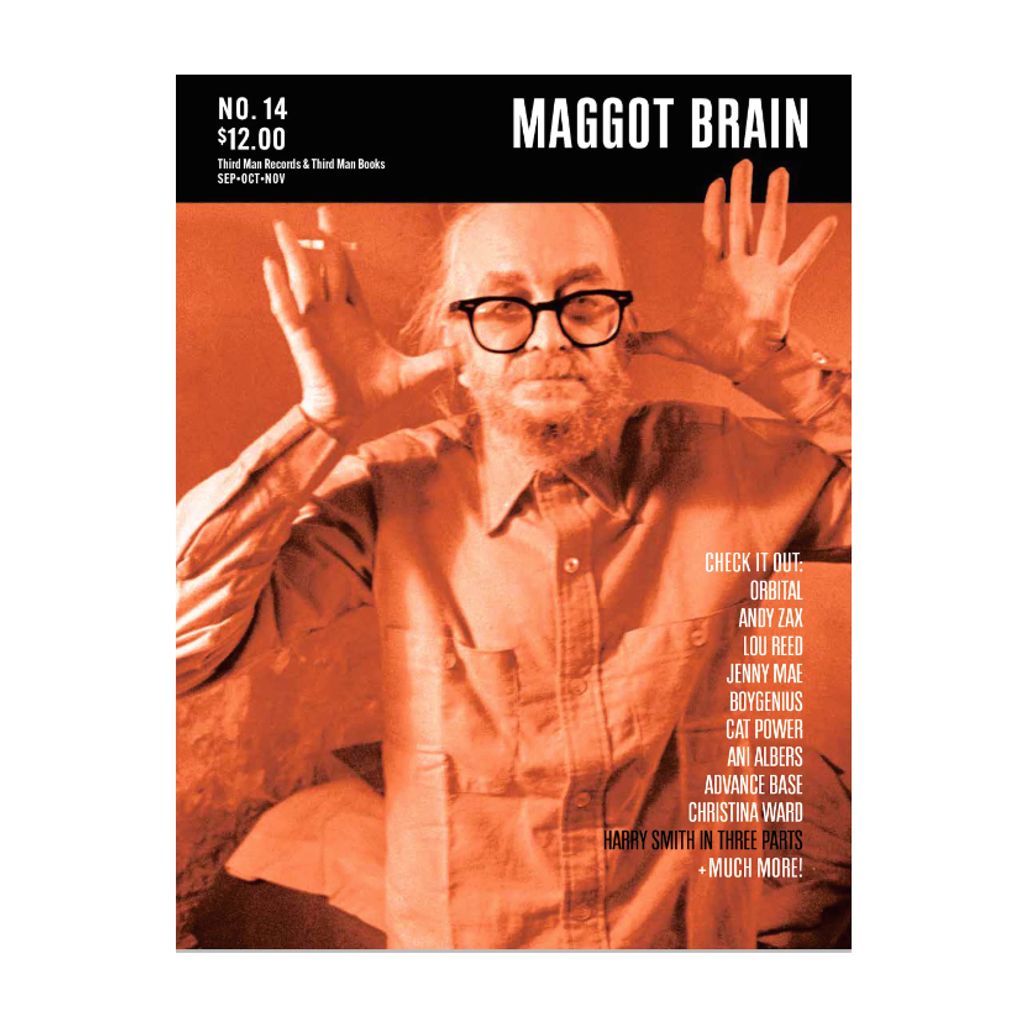 Pre-Order
• Pre-Order : Maggot Brain #14 Magazine
Maggot Brain
Pre-Order by 12th Oct 2023
MAGGOT BRAIN ISSUE 14 is here. The Fall 2023 issue is jam-packed!
Cover boy HARRY SMITH shines thanks to a cheeky, never-before published photo by Allen Ginsberg. We celebrate the life and work of the self-described "ethnopharmacologist" just in time for the release of John Szwed's illuminating biography and Smith's first one-person art exhibition, at the Whitney, with three killer, well-illustrated features (on his Anthology of American Folk Music, an interview by Marc Masters with Szwed, and a terrific dive into Smith's relationship with fellow visual artist and filmmaker Jordan Belson by Raymond Foye).
Also in this issue: Andy Beta on the reissue of a forgotten LOU REED record. Excerpts from two revelatory works—ANDY ZAX's Extinctophonics, and CHRISTINA WARD's Holy Food. Kathy Lindenmayer witnesses a show by BOYGENIUS. An archival interview with fabric arts pioneer and Bauhaus OG, ANNI ALBERS. An illustrated ADVANCE BASE tour diary by Owen Ashworth. Tamara Palmer considers the oddball career arc of ORBITAL. v Andy Beta goes deep on TETSU INOUE. Nate Lippens goes off on RENE RICARD and other obsessions. And Michelle Dove on CAT POWER's sense of humor!
Plus illustrations throughout by MARLY BEYER; and columns by LUCY SANTE, MIMI LIPSON, DWIGHT PAVLOVIC, and editor MIKE McGONIGAL; tributes to SIXTO RODRIGUEZ, ESP SUMMER, and PEE-WEE HERMAN; and the triumphant return of the UNSTAPLED column, with reproductions of a contemporary basketball fanzine.
---